Welcome to Turning Point
Life Beyond the Sidewalk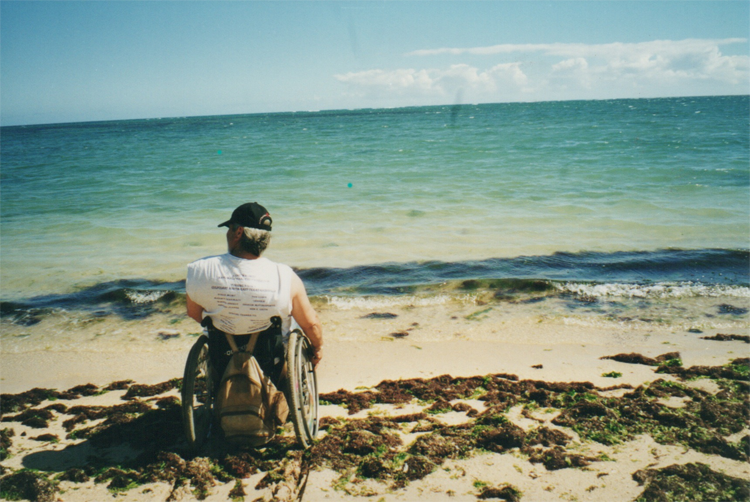 Michael "Shorty" Powers' wheelchair is empty today. His love for life, passion for the outdoors, zeal for adventure, coupled with his refusal to accept "limitations" and his readiness to tackle a challenge made Shorty a truly extraordinary & unforgettable man. Throughout his life, Shorty never met a stranger, with many becoming life-long friends. There's a void in all the hearts and lives Shorty touched throughout his action-packed life. You might have met him at a restaurant, POINT activity, rehab or the Wal-Mart parking lot. For many, their life was forever changed by their encounter with Shorty.
On March 16, 1969, Shorty survived a tragic car accident that killed his best friend; his aorta bled out which resulted in paraplegia. Always a nature lover and avid outdoorsman, Shorty didn't let his wheelchair keep him indoors! He trail-blazed a path to start the first organized adaptive outdoor recreational adventures for folks with disabilities. His impact on people who were "newly injured" was remarkable and life-altering! With new-found confidence discovered in conquering outdoor challenges, Shorty founded a non-profit organization, Turning POINT, in 1979. Shorty's vision of empowering lives using the healing force of nature combined with adapted recreational activities for the mobility impaired community. Turning POINT was just awarded a TPWD Co-Op grant which will introduce members to new adaptive equipment hands-on at outdoor programs throughout the upcoming year - Shorty's legacy lives on…
Some of Shorty's accomplishments include:
Lone Star Legends, TPWD Chairman's Award for Public Service: 1999
Barbara Jordan Award (for Turning POINT Video): 2000
The Hall of Fame at the TPWD Freshwater Fisheries Center: 2004
A Night of Light Awards of Excellence: 2006
He climbed a mountain, played tennis and basketball, scuba dived, sailed boats, hunted, kayaked, caught myriad fish, and loved people and life!
Shorty's best friend, the late Randy Snow, once said "If anyone is meant to be in a wheelchair, it's Shorty.... to show us the way"!
Today Turning POINT is continuing to support Shorty's dream and legacy.… Adaptive activities are scheduled (see calendar below) and new ones are being added:
----------------------------------------------------------------------------------------------------------------------
The summer/fall schedule is packed with activities. Because you asked for it, we are doing more handgun classes. 'Safety in the Home' will Saturday, July 29 at the LoneStar PVA office. This is a non-shooting course which basically teaches safe gun handling to family members where there is a handgun the the home. On July 12, we will be doing another License to Carry class, in one day.
Juniors, mark your calendar for the Juniors Fishing Tournament held at Bass Pro Shops, Garland on Saturday, October 21. And don't forget Spooky Camp on October 28-29.
Monthly activities are boating / fishing on Lake Ray Hubbard from a pontoon boat at Captain's Cove, Garland. This is available the 1st and 3rd weekend . To RSVP, contact kmumford@turningPOINTnation.org. Archery is another activity held one Tuesday (6pm - 8pm) a month at Texas Archery Academy. Archery meets the 2nd Tuesday of each month at 6pm until 8pm. Handcycling is on the second Saturday. We are meeting at Sam Houston Trail, 101 E Hwy 635, Irving. Please check the calendar below because occassionally the schedule will change due to a conflict. RSVP by emailing tthrift@turningPOINTnation.org.
We are pleased to announce that we now are offering summer weekly bowling every Wednesday. Billiards is at 12pm - 2pm at the Plano Super Bow, 2521 K Ave, Plano 75074. Just show up and enjoy yourself.
Turning POINT is a non-profit 501(c)(3) organization with 36 years experience providing FREE adapted outdoor recreational activities and adventures for those with physical challenges. Each month there are activities scheduled to help those with mobility impairments stay active!
Maybe you or someone you know would like to get involved with us - we welcome members, volunteers, sponsors and donors.