Welcome to Turning Point
Life Beyond the Sidewalk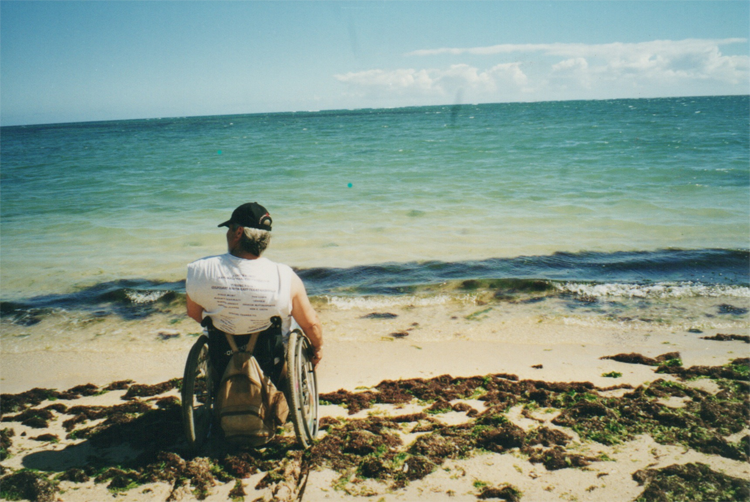 Shorty, fearless leader of the Turning POINT parade, passed away at home on Sunday evening. Only 9 days prior, he had only been diagnosed with stage 4 cancer; and Shorty suffered little as he went to the big fishing hole in heaven.
Michael "Shorty" Powers' wheelchair is empty today. His love for life, passion for the outdoors, zeal for adventure, coupled with his refusal to accept "limitations" and his readiness to tackle a challenge made Shorty a truly extraordinary & unforgettable man. Throughout his life, Shorty never met a stranger, with many becoming life-long friends. There's a void in all the hearts and lives Shorty touched throughout his action-packed life. You might have met him at a restaurant, POINT activity, rehab or the Wal-Mart parking lot. For many, their life was forever changed by their encounter with Shorty.
Michael Lewis Powers (aka Shorty) was born on October 17, 1951 in Oklahoma City, OK to the late Don and Ona Bea Wade Powers. Beloved husband to Nance Baumann Powers and father to Dylan Vaughan Powers of Terrell, Texas. Also survived by sisters Nan Johnson, Donna Vaughan, and Kelli Lawson; nieces Tina Vaughan, Jennifer Jeffress, Meg Guerra, Katy Williams, Sophie Lawson and nephew Woody Paul Lawson. The Powers family moved to Irving, where Shorty attended MacArthur High School, graduating in 1970.
On March 16, 1969, Shorty survived a tragic car accident that killed his best friend; his aorta bled out which resulted in paraplegia. Always a nature lover and avid outdoorsman, Shorty didn't let his wheelchair keep him indoors! He trail-blazed a path to start the first organized adaptive outdoor recreational adventures for folks with disabilities. His impact on people who were "newly injured" was remarkable and life-altering! With new-found confidence discovered in conquering outdoor challenges, Shorty founded a non-profit organization, Turning POINT, in 1979. Shorty's vision of empowering lives using the healing force of nature combined with adapted recreational activities for the mobility impaired community. Turning POINT was just awarded a TPWD Co-Op grant which will introduce members to new adaptive equipment hands-on at outdoor programs throughout the upcoming year - Shorty's legacy lives on…
Some of Shorty's accomplishments include:
Lone Star Legends, TPWD Chairman's Award for Public Service: 1999
Barbara Jordan Award (for Turning POINT Video): 2000
The Hall of Fame at the TPWD Freshwater Fisheries Center: 2004
A Night of Light Awards of Excellence: 2006
He climbed a mountain, played tennis and basketball, scuba dived, sailed boats, hunted, kayaked, caught myriad fish, and loved people and life!
Shorty's best friend, the late Randy Snow, once said "If anyone is meant to be in a wheelchair, it's Shorty.... to show us the way"!
In lieu of flowers, please make donations to
Turning POINT, 403 Pacific, Terrell TX 75160
www.TurningPointNation.org
...and continue to support Shorty's dream…
Any questions? call Jason Swanson 214-649-7146
Turning POINT is a non-profit 501(c)(3) organization with 36 years experience providing FREE adapted outdoor recreational activities and adventures for those with physical challenges. Each month there are activities scheduled to help those with mobility impairments stay active!
Maybe you or someone you know would like to get involved with us - we welcome members, volunteers, sponsors and donors.